Contents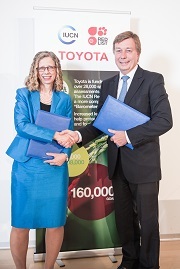 Announced in 2016, a five-year partnership between International Union for Conservation of Nature (IUCN) and Toyota Motor Corporation (Toyota) is significantly increasing knowledge on the extinction risk of more than 28,000 species.
The IUCN–Toyota Partnership is filling crucial gaps in The IUCN Red List of Threatened Species™ by enabling new assessments of wild plant, fungi, fish, invertebrate and reptile species around the world.
This work is supporting IUCN's effort to monitor the UN Sustainable Development Goal 15 – Life on Land. It will also improve the data used by policy makers and environmental planners to guide future decision-making and improve conservation action.
The partnership has also improved the functionality of The IUCN Red List through the delivery of a new web-based platform, improving public access to key conservation data.
"When tackling threats to the global environment, it is important to act early and boldly with concrete steps that will make a difference in people's lives," said Didier Leroy, Executive Vice President of Toyota Motor Corporation. "We did it in 1997 with Prius, and in 2014 with the hydrogen fuel cell MIRAI. But protecting the environment is not just about CO2 and emissions: biodiversity is equally important to human lives. By entering this partnership with IUCN, we are very proud to take an additional step toward the challenge of establishing a future society in harmony with nature."
The private sector has a key role to play in supporting IUCN and others to reverse the decline in biodiversity. This partnership demonstrates the important leadership role that Toyota is playing to combat biodiversity loss.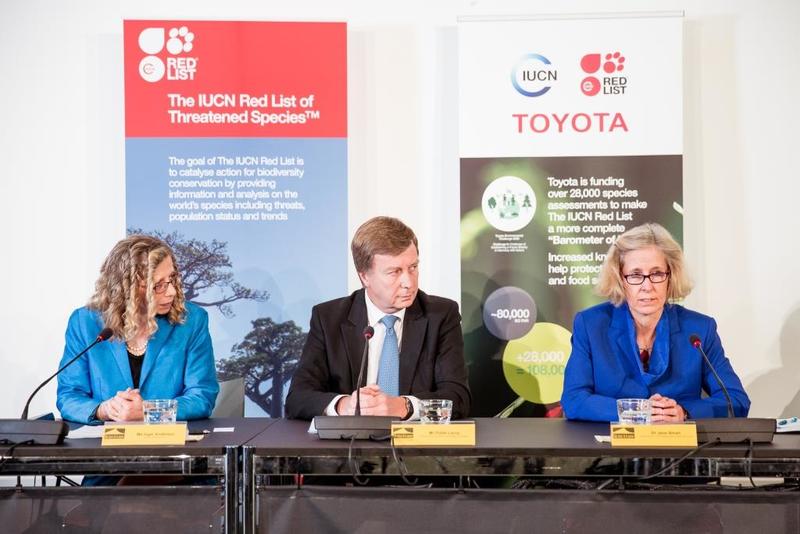 The IUCN – Toyota Partnership is driven by the Toyota Environmental Challenge 2050, which aims to reduce the negative impacts associated with automobiles to zero, whilst simultaneously making positive impacts on society. Through Challenge 6 of its Environmental Challenge, Toyota is taking a leadership role for both avoiding habitat destruction and putting the conservation and restoration of biodiversity at the centre of its plans. By entering this Partnership under Challenge 6, Toyota and IUCN are very proud to take an additional step toward the challenge of establishing a future society in harmony with nature. For more information, see the website.
The IUCN – Toyota Partnership is responsible for a major contribution towards the Barometer of Life, with 21,525 Toyota-funded species assessments published in the first three years. Many thousands of additional species assessments have been submitted to the IUCN Red List and are in the queue for publication. Considering this headway, the project is on course to assess and publish 29,830 Toyota-funded species assessments. IUCN is hopeful of delivering the 160,000 species assessments for the Barometer of Life, thanks in large part to this Partnership.
With the growing number of species assessments being published, the IUCN Red List has been updated numerous times. These updates have often been accompanied by international IUCN media releases, which have attracted global media attention from outlets such as The New York Times, The Washington Post, Voice of America, El País, Le Monde, Le Figaro, the BBC and Spiegel, as well as Nature and National Geographic. In Japan, coverage has included Japan Yahoo News, Saga Shimbun, Nikkei Net and Shimotsuke Shimbun.
The new website for the IUCN Red List of Threatened Species was launched in September 2018, with over 24 million page views and 43.7 million species maps already downloaded.
Thanks to Toyota, new Japanese language resources about the IUCN Red List are available on the IUCN Red List website.
The IUCN-Toyota Partnership has showcased the importance of the private sector in investing in biodiversity for people and planet, at key policy-making events such as the 14th Conference of Parties to the Convention on Biological Diversity.